Supplier Payment Code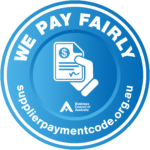 AP Marketing Works are a proud supporter and signatory to the 'Supplier Payment Code' supporting Australian businesses.
We are committed to the following and respect all suppliers payment terms by paying all supplier's invoices by their stated due date.
A copy of the code we abide by can be read below.