Singsational! by In The Mood
In the Mood are an engaging duo (Ailsa Page and Phillip Campagna) who use principles of adult learning gerontology, music therapy, and good old-fashioned entertainment to engage and entertain.
Singsational Sing-along DVD is a fun energised musical and entertainment soup of old-time favourites for all ages. Sing along with easy-to-read lyrics that come up on the screen and feel as though you are right there.
FREE delivery anywhere in Australia. To order over the phone call 0419 546 159.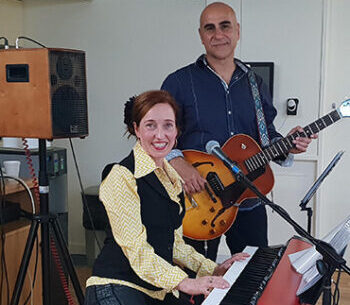 15 songs
You Are My Sunshine – Jimmie Davis
Delilah – Tom Jones
Everyday – Buddy Holly
Perhaps, Perhaps, Perhaps – Doris Day
Five Foot Two – Leo Feist
Love Me Tender – Elvis Presley
Dream Lover – Bobby Darin
Danny Boy – Weatherly
Hound Dog – Elvis Presley
Let's Twist Again – Chubby Checker
Rock Around The Clock – Bill Haley
Waltzing Matilda – Christina MacPherson & Banjo Patterson
City Chick – Ailsa Page
Blue Mood – Richard Rodgers & Lorenz Hart
The Lovers Song – Ned Miller