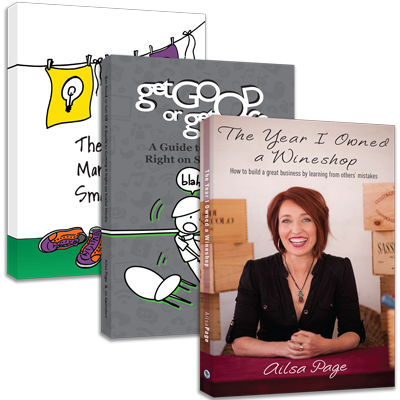 3 Book Pack – Isolation Special
Special 3 book pack $69 including gst and postage.
COVID-19 is turning businesses on their head.  I get it.  Sometimes what can help is getting practical tips and ideas.  So until the end of this financial year as a gift to all other small businesses out there I am offering my three business books at a never before seen price which have tips on when things get tough.  As resources tighten you need to find ways to get more from less.  In this downtime, you have the opportunity to learn more about how marketing works in small business and inspire yourself with great marketing strategy ideas and inspiration. Get this gift pack for either yourself or another business owner and get a gift that keeps giving. Easy to read small business marketing and business books that are packed full of great ideas, shortcuts and know how. Get Ailsa Page Marketing Sherpa's 20 years plus experience to help you through the tough times ahead.